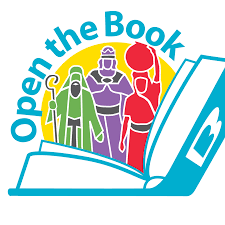 In the Spring of 2008 an appeal for Christian volunteers to help launch a Church of England initiative called 'Open The Book', was received from Sheila Anthony, the local C of E vicar. The idea behind OTB is to introduce Primary School Children to Bible Stories from the Old and New Testaments, on a regular basis. Fortunately both Head Teachers from our local primary schools were open and willing to allow the 'Open the Book' Team into their schools on a weekly basis to take an assembly.
"Open The Book" first began in 1999 in Bedford when a group of Christians began regular visits to their local primary school using a Bob Hartman Bible Story Book which he originally wrote for his own children and grandchildren. This initiative was taken up by others in Gloucestershire in 2001 with 6 teams, which has now risen to 170 teams in 2012. The production of the material used has been taken over by the Bible Society and in January 2013 it was recorded that there are 8,439 volunteers nationally going into 1473 primary schools. (The Bible Society have a comprehensive area dedicated to Open The Book here where you can find further information.)
For over 10 years volunteers from St Helen's Church, St Mary's Church, and Bluntisham Baptist Church have taken the gospel into St Helen's Primary School and Earith County Primary School in a child friendly way. The stories are narrated and acted out each week, following the strict rules set out in the guidelines provided. Children are encouraged to take part in the short drama's which is great fun and many of the children enjoy the experience enormously.
We are encouraged in Psalm 78 to 'tell the next generation about our wonderful God so that in turn they will tell the following generations'. 'Then they will put their trust in God'. Hopefully the Team is doing just that. If you would like to know more you can contact the team by clicking here